Event Date:
Tuesday, November 27, 2018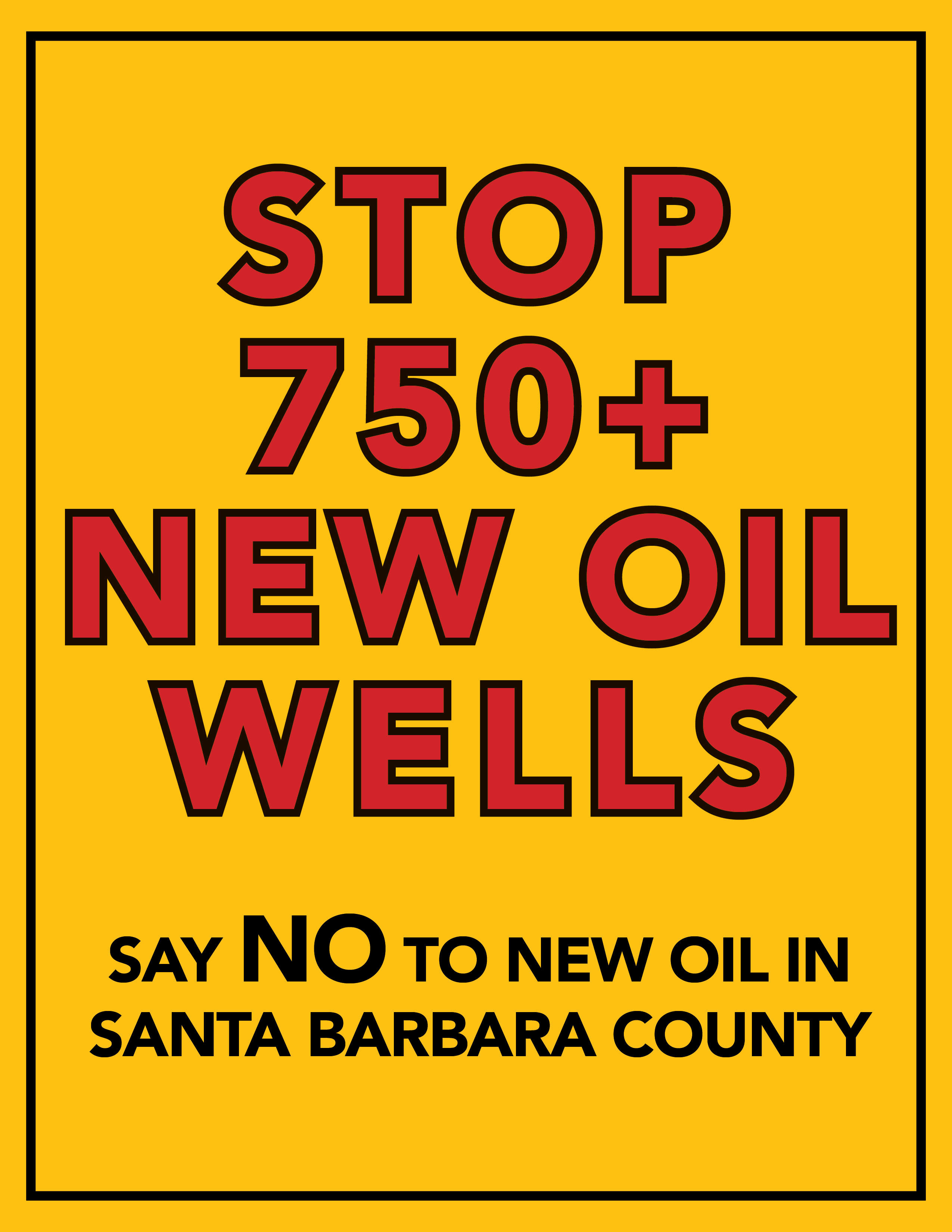 Three oil companies want to drill over 750 wells in Santa Barbara County using extreme forms of extraction that may threaten the health of communities and contaminate the local aquifer. A county-wide campaign is working to urge both permitting agencies and elected officials to deny permits to all three projects. 
Santa Barbara County is the fourth largest producer of oil in California. Three oil companies have filed for permission to drill over 750 new oil wells in Cat Canyon near Santa Maria in North County, which are currently undergoing various stages of review. The oil they intend to extract is a particularly dirty type of heavy crude and the extraction methods required to take it out of the ground (cyclic steam injection) are similar to those employed in fracking. During spring and summer of 2018, ERG, Petro-Rock, and AERA carried out scoping hearings, while the county held hearings on draft EIRs, in which residents of the county voiced serious concerns ranging from contamination of the aquifer from which much of the region gets its drinking water, to degrading public health from increased air pollution, to biodiversity loss, and to the impacts that yet more fossil fuel emissions will have on intensifying climate change, forest fires, mud slides, sea level rise and drought. The companies are now in various stages of carrying out Environmental Impact Assessments in which they must respond to the community's concerns. 
Over the next few months there will be several opportunities for the Santa Barbara community to provide input on the process through public comment and lobbying local decision makers. Whether the Planning Commission rejects or accepts these drilling permits their decision will likely be appealed and sent to the Santa Barbara County Board of Supervisors, some of whom hold strong oil ties while others campaigned and won on strong climate platforms. A broad coalition of both local and regional organizations oppose the new wells. Key organizers helping the community oppose new oil extraction in the region include SAFE Energy Now North County, the Santa Barbara chapter of 350.org, Sierra Club, Food and Water Watch, Santa Barbara Standing Rock Coalition, Environmental Defense Center (EDC), Center for Biological Diversity (CBD), and Santa Barbara County Action Network.
UPDATE 1/9/19:  The draft Enviromental Impact Report (EIR) for one of these companies - Aera - was released in December and is open for public comment. There are two ways you can submit a comment:
(1) Submit your own via email. You can find more information about the draft EIR, the project, and how to write a public comment here: http://350sb.org/public-comment/
(2) Join 350 Santa Barbara to deliver a public comment in person. https://docs.google.com/forms/d/e/1FAIpQLSeQ60KCDMvh-ibCroQijP2kCeQT1dKxSx0Oe17pP4DnBYP6SA/viewform
Find out more at http://350sb.org/public-comment/
For more information, contact the UCSB-liaison, Emily Williams: emilylynnwilliams@gmail.com
A resolution against the new wells written by the Student Activist Network at UCSB in solidarity with the Standing Rock Coalition, Food and Water Watch, 350 Santa Barbara, and the Sierra Club can be read here.
November 27, 2018 - 10:07am